Articles From AP and Reuters
An Orthodox Jewish man prays for Israeli Prime minister Ariel Sharon at the Chabad Shul synagogue in Warsaw January 9, 2006. (Katarina Stoltz/Reuters)
Reuters -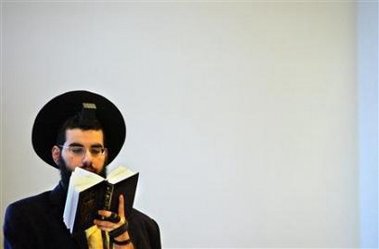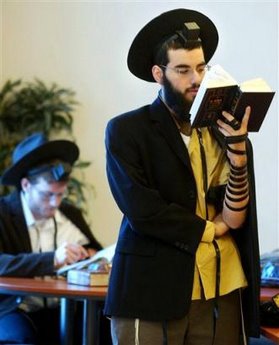 Orthodox Jews and Israel's ambassador to Poland, David Peleg, right, pray for Israeli Prime Minister Ariel Sharon at the Chabad Shul synagogue in Warsaw, Poland, on Monday, Jan. 9, 2006. Sharon began breathing on his own Monday after doctors started bringing him out of an induced coma to assess damage caused by his massive stroke, doctors said. (AP Photo/Czarek Sokolowski)
AP -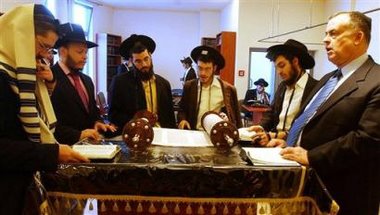 An Orthodox Jewish man holds a Torah while he prays for Israeli Prime minister Ariel Sharon at the Chabad Shul synagogue in Warsaw January 9, 2005. (Katarina Stoltz/Reuters)
Reuters -


COL
Israel's Ambassador Visits Chabad Yeshiva of Warsaw
Israel's Ambassador to Warsaw, David Peleg made his first visit to the recently opened Chabad yeshiva in Warsaw where he was greeted by the Chabad businessman, Reb Meir Stambler and the yeshiva students. The ambassador was told about the fruitful activities done by the students-shluchim and about the programs carried out by the new Chabad House, directed by the shliach, Rabbi Sholom Ber Stambler. Ambassador Peleg was honored with an aliya at this occasion.
שגריר ישראל בפולין דוד פלג ערך ביקור ראשון בישיבת חב"ד בוורשא שהוקמה באחרונה. הוא התקבל על-ידי איש העסקים החב"די ר' מאיר סטמבלר ותלמידי הישיבה. השגריר שמע על פעילותם המבורכת של התלמידים השלוחים, ובית-חב"ד החדש בהנהלת השליח הרב שלום-בער סטמבלר. הוא אף קיבל 'עלייה' לתורה
SHMAIS.com
Israel's ambassador to Poland visits Chabad House
On Monday morning Israel's ambassador to Poland, David Peleg visited the new Chabad House in Warsaw where he received an Aliya and a special Mi Shebayrach was made for Israel's PM Ariel Sharon. The ambassador was accompanied by Meir Stambler.